Cancer Summit 2020 Meeting &amp Hospitality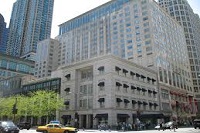 The City
With a great excitement, we are organizing Cancer Summit 2020 in Chicago, USA
The City of Chicago covers an area of 60,000 hectares and sits 176 meters (578 feet) above sea level on the southwestern shore of Lake Michigan. At 190 km wide and 495 km long, it's the 5th largest body of fresh water in the world. The city is traversed by the Chicago and Calumet rivers. Chicago's extensive parklands, including 3,000 hectares of city parks attract an estimated 86 million visitors annually. This city is recognized across the United States as a very passionate sports town.
The top tourist destination in Chicago is the Millennium Park with serene gardens, grand pavilions, and dazzling fountains that sculpt light and water, walking paths. The park is home to a constantly rotating schedule of free cultural events for all ages, all year long.
Robert H. Lurie Comprehensive Cancer Center of North western University in Chicago is highly rated and is one of the cancer institutes in the world which provides best cancer care. Their oncology team provides emotional and practical support for the patients and families coping with the challenges of diagnosis, treatment and recovery.
The Chicago Jazz which is highly expected by music lovers around the world is scheduled to happen in Chicago in August. This Festival showcases the greatest jazz artists from Chicago and around the world during new, extended festival dates.
Directions
Route Map